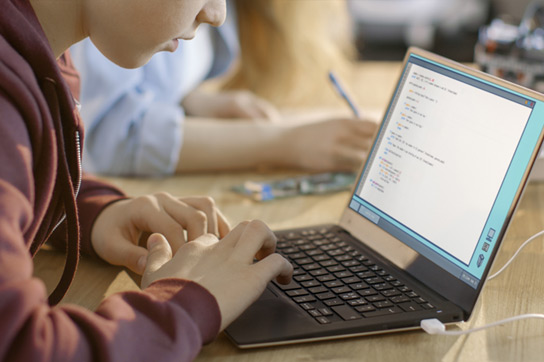 05 Jul

Academic Institutions Need AI-Driven IT Solutions. Here's How FRIDAY Helps

Schools are more interconnected than ever. The number of devices and points of connectivity continues to grow as remote learning cements its place in modern day academia. But to make this as effective as possible, IT needs to keep up. Here's how solutions backed by artificial intelligence (AI) can help. 

Tech and connectivity in academic settings: What has changed? 

The COVID-19 pandemic ushered in a new era of connectivity in the classroom. Seemingly overnight, classrooms of all sizes and grade levels around the world found themselves shifting to a distance learning model. This model is here to stay in many ways, from online instruction to remote field trips to everyday use within the school building, such as digital lunch menu boards or screens that display daily announcements. Whether elementary school, high school, or the college lecture hall, a digital-first, fully connected classroom is now a fundamental norm to ensure daily operations run smoothly.  

Distance learning is so deeply entrenched in the 21st century classroom that downtime can greatly impact how students learn. Interruptions in lecturing, receiving assignments, reviewing required material, and anything else essential to the learning experience has a negative effect on students. One down monitor, broken router, or damaged cable means a precious day of learning lost. 

Of course, IT specialists are on hand to help, whether that's through a dedicated professional hired by the school district or university or through an outsourced managed service provider (MSP). However, human hands and brains alone may not be enough to keep up in this new era.

Where traditional MSPs fall short in the 21st century classroom 

Crucially, many education institutions don't have any monitoring in place. That means IT is called when something goes wrong, called reactive maintenance. In a world where classrooms are more dependent than ever on interconnectivity and technology, reacting to problems after they occur is no longer an adequate solution.  

Instead, schools and colleges need to look to a proactive maintenance model to keep up in a fast-paced, fully connected world. This method detects when something is about to go wrong and puts the remedy in place before the system or equipment has a chance to break down. This saves educators and administrators precious days and dollars. 

It's not just about how maintenance is conducted, but how much needs to be maintained. First, the number of one-to-one devices has increased significantly in the COVID-19 era. According to EdWeek, 90 percent of middle and high schoolers have at least one device of their own that they use in the classroom. The sheer number of connected devices in the classroom increases how many issues and which types of issues can occur.  

There's a human cost from an IT perspective when the number of devices increases. Any number of things can go wrong, and an IT team needs to be ready at a moment's notice to tackle any of it. If multiple issues occur at once – a not unlikely possibility –staff are likely to be stretched thin. Coupled with the labor shortages associated with the COVID pandemic, there simply may not be enough personnel to cover it all. 

This is where FRIDAY comes in. 

How FRIDAY AI works 

FRIDAY utilizes AI to monitor IT infrastructure and inform clients of issues in real time. It's designed to identify problems before they impact the classroom, actively monitoring a complicated network of thousands of connectivity points and devices around the clock. With FRIDAY, education institutions can shrink their mean time to resolution (MTTR) to a few hours – including implementing the solution — instead of days to diagnose, problem-solve, and implement the solution. 

Through an intuitive dashboard, FRIDAY regularly assess several main components that define the health of an institution's IT setup. This provides a wide view into device status, the status of network clients, and the number of critical support cases at each site. The dashboard provides direct insight into what's happening on the ground, as opposed to issuing a report that's read later. If an issue is detected, FRIDAY kicks in right away, running diagnostics to identify the root cause of the problem and takes the next steps to solve it.

How FRIDAY helps schools do more with less 

AI is symbiotic with human help. The two work together to enable a smoothly run organization. But the "how" is in the details, and FRIDAY is thoughtfully designed to handle the biggest pain points and the smallest annoyances that get in the way of effective IT help in the classroom. 

Catching problems before teachers are forced to deal with them 

Teachers aren't IT network experts. They aren't expected to know how to fix equipment or systems when they stop working. Reactive maintenance when something goes awry puts more pressure on teachers when they should – and want to — focus on their main responsibility: Educating their students. An AI-driven predictive maintenance platform catches these problems before they ever reach the instructor.  

Supporting current teams with proven tools 

FRIDAY is designed to augment current IT teams and expand their tech. Our AI-driven tools can identify and solve issues in hours instead of days, without dedicating a human to solving that single task. FRIDAY can do so without human intervention, helping stretched teams achieve more with the same number of hours in the day.  

There's no limit to FRIDAY's capacity, either: The system can tackle and solve hundreds of issues at once. AI doesn't take sick days and doesn't get tired. With FRIDAY, IT professionals can do more with less. 

Flexible funding parameters 

Not all MSP providers have the flexibility to work within a school administrator's budgeting needs. FRIDAY, backed by Cluster Networks, can work within the needs of a particular district or university system. Administrators won't need to wait a full year to justify the cost of an AI-driven MSP, just to find out funding won't be available for the service. The AI gets to work right away, and its impact is felt organization-wide within Hours weeks. FRIDAY also monitors key performance indicators (KPIs), so administrators can easily justify the costs and time saved while using the platform. The result is a system that keeps classrooms running and doesn't impact valuable learning time for students or educators. 

With FRIDAY, school is always in session 

Minimize classroom downtime, keep students engaged, and help educators run a smooth online classroom experience. With FRIDAY's AI-driven help, all types of academic institutions, from young kids to graduate students, benefit from a frictionless online learning experience. Predictive maintenance helps identify issues across thousands of devices before issues arise, without relying on overworked staff that can't always keep track of so much. The bottom line? Teachers get back to teaching faster.